Today we're talking about Nicolas who did an apprenticeship with the Tibbloc team.
"During these two years of work experience, I was able to learn, be accompanied and trained in the tasks that were entrusted to me. Overhauls, connections, adjustments, checks and folding of boiler rooms and refrigeration units", explains Nicolas.
The complexity of this profession is perfectly matched with the work-study system, as it allows for a combination of practice and theory. "More than just training, I was able to gain confidence. Today, I am able to work independently."
In September 2022, Nicolas signed a permanent contract as a Heating and Refrigeration Technician. 👨🏼‍🔧
Like Nicolas, join our team!
For work experience, an internship, a temporary contract or a permanent contract, there are opportunities to be explored in our five sites in France.
Contact TIBBLOC : recrutement@tibbloc.fr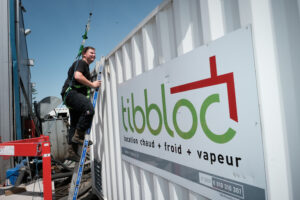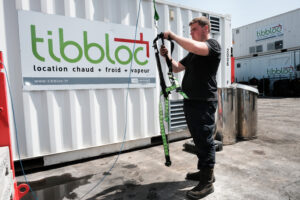 Our story started in 2007. The story of two experts in thermal energy, Gilles BERTRAND and Serge BRUNERIE, and their partner TIGR, who had the innovative idea of offering :
– Heating solutions without investment, on a rental basis
– Fully pre-manufactured and containerised boiler rooms for quick and easy transport
– Turnkey services to facilitate the daily life of #operators and #manufacturers
Our brand TIBBLOC is based on the background of our founders who gave their initials to create the Company!
→ TIGR / Bertrand / Brunerie / Location
Our development in multi-energy started in 2011 with the arrival of Michael Hamon and the launch of the cooling and air conditioning ranges;
It continued in 2018 with the introduction of the steam boiler range and accelerated recently with the negative cooling and compressed air range.
Our commitment is the continuity of this entrepreneurial adventure with all of our teams combined with the past, present and future; our strategic Partners and the confidence of our Customers who benefit daily from our temporary energy solutions.
We approach our future with confidence. By the end of 2022, we will have more than a hundred employees and a turnover of more than 30 million euros.
Want to know more or join our team? Contact us at info@tibbloc.fr or Tel. 0810 310 307.
Visit LinkedIn to see the video produced: https://www.linkedin.com/feed/update/urn:li:activity:7000729928811827200