WEDDING
Unique and unforgettable events require efficient and reliable temperature control equipment.
To ensure a pleasant climate and cool storage space, our teams installed two 115 KW heat pumps, two 250 KW air handling units and three 15 KW mobile air conditioners.
Dutch translation :
Uitzonderlijke en onvergetelijke evenementen vereisen efficiënte en betrouwbare apparatuur voor temperatuurregeling.
Om te profiteren van een aangenaam klimaat en koude opslagruimte, hebben onze teams twee 115 KW warmtepompen geïnstalleerd met twee 250 KW luchtbehandelingskasten en drie 15 KW split-airconditioners.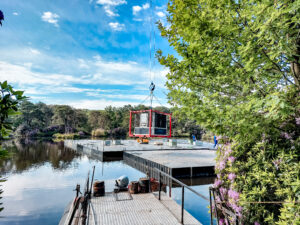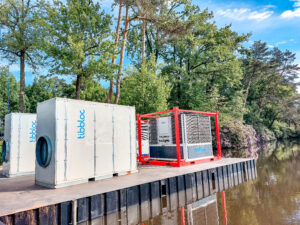 Implementation of a 210 kW chiller following renovation works in a building. The rental period lasted 26 weeks.
Chilled water production unit
The GFT210 chiller is the most compact chiller in the Tibbloc range.
It can be used in various installations, for process cooling or air conditioning. The GFT210 delivers a nominal power of 208 KW for a chilled water outlet temperature range of +7°/+12°C. For other applications, please consult the Tibbloc integrated project planning unit.
Environmentally friendly – The GFT210 uses R410A refrigerant for reliability and optimum efficiency.
Low noise level – The GFT210 is a low-noise chiller, 58 d(B)A at 10 metres.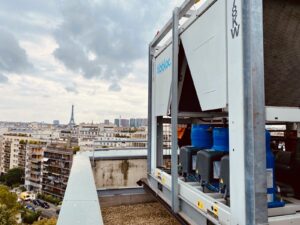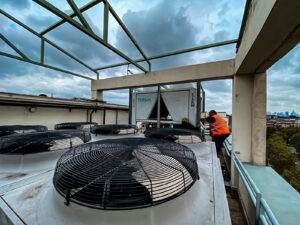 Glycol water production unit
Emergency installation in western France of a 550 kW glycol water production unit at -8/-4°C to rescue an ammonia installation at a food and beverage processing plant.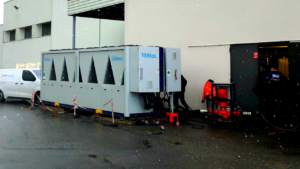 price with Tibbloc, its rental services and its Made in France pre-fabricated products
OPERATING AND FINANCIAL BENEFITS
– Modularity of our rental solutions allowing us to adapt from year to year to the evolution of the environment and the constraints of our clients
– Cost of use savings vs. capital expenditure
– Seasonal variations smoothed out by rental
– Continuity of production in case of unforeseen events (avoids losses due to production stoppages).
ECO-FRIENDLY AND CIRCULAR LEASING
– Made in France
– Reduction of material and waste flows
– Less pollution – what is produced is reused via rental
– Sober – avoids multiple fixed installations
– Sustainable and scalable solutions
– Ability to renovate our pre-manufactured products and adapt them to new standards (retrofit).
SAFE AND SECURE SUPPLY / QUALITY STANDARDS
– Security of supply through strong Partnerships with manufacturers
– Control of our supply chain thanks to 100% Made in France
– And to the longevity of our Partnership agreements
– Tibbloc quality standards and requirements for its partners
– Influencing suppliers on innovations, R&D (decarbonisation etc)
– Adaptations to the rental market to deliver quickly (ISO containerisation, forks/slings, etc.) and to secure our interventions (MASE, Atex, etc.).