We present our new 10 T/h steam boiler.
Quick to set up, our high-powered mobile steam solutions from 6 to 17 T/H for hire are the perfect answer to the needs of industrialists and district heating network professionals in the event of works, breakdowns or increased production.
For more information, you can consult our steam solutions by clicking here

Or send a request via our contact page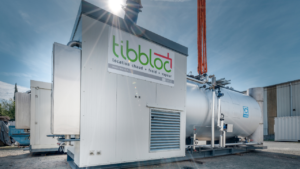 During the 4 years of construction of a new building specialised in the care of the elderly, at the Saint Périne hospital in Paris. Tibbloc provided 2 gas fired boiler rooms to provide access to heating and hot water.
With the work completed, the building could be connected to the network and the boiler rooms removed.
Thanks to Tibbloc's technical, logistical, commercial and sales teams for this important project.
Check out our gas solutions by clicking here.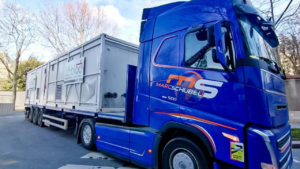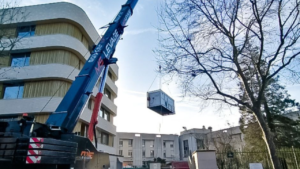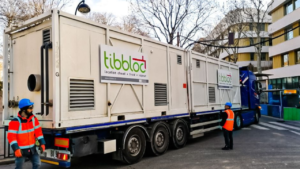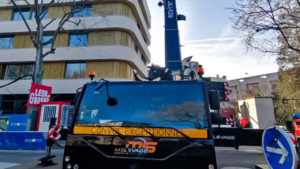 Emergency installation of a 1 MW gas boiler room in a public establishment following a breakdown in their boiler room. Tibbloc's intervention enabled the entire building to be heated. Benefit quickly from additional power or a temporary mobile boiler room during your scheduled or emergency work thanks to our gas boiler rooms.
Complete boiler room :
Expansion tank, primary pump + recirculation pump, distribution panel, safety, regulation, isolation valve, stainless steel single skin chimney, high flow trap, constant flow or regulated flow with three way valve.
According to the model :
Delivered, installed and commissioned on a turnkey basis by our teams
Easy to place – free choice of location
Easy energy supply
Optimised energy cost for long term rental
Gas fuel management by Tibbloc on demand
CF2H boiler room
Emergency rental of a 1.2 MW 2-hour fireproof boiler (CF2H) for the production of domestic hot water and heating of a swimming pool.
For any rental request, do not hesitate to contact us.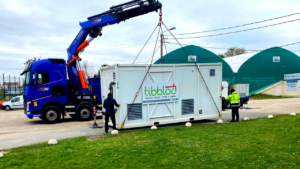 price with Tibbloc, its rental services and its Made in France pre-fabricated products
OPERATING AND FINANCIAL BENEFITS
– Modularity of our rental solutions allowing us to adapt from year to year to the evolution of the environment and the constraints of our clients
– Cost of use savings vs. capital expenditure
– Seasonal variations smoothed out by rental
– Continuity of production in case of unforeseen events (avoids losses due to production stoppages).
ECO-FRIENDLY AND CIRCULAR LEASING
– Made in France
– Reduction of material and waste flows
– Less pollution – what is produced is reused via rental
– Sober – avoids multiple fixed installations
– Sustainable and scalable solutions
– Ability to renovate our pre-manufactured products and adapt them to new standards (retrofit).
SAFE AND SECURE SUPPLY / QUALITY STANDARDS
– Security of supply through strong Partnerships with manufacturers
– Control of our supply chain thanks to 100% Made in France
– And to the longevity of our Partnership agreements
– Tibbloc quality standards and requirements for its partners
– Influencing suppliers on innovations, R&D (decarbonisation etc)
– Adaptations to the rental market to deliver quickly (ISO containerisation, forks/slings, etc.) and to secure our interventions (MASE, Atex, etc.).
It is snowing in the East of France and we are installing a 600KW 2-hour fireproof heating system to support a public building.
Tibbloc has been investing for several years in the purchase of 2-hour fireproof boilers to comply with ERP regulations. We offer a range of boilers from 300kW to over 2MW.
Many thanks to the client for their confidence and to the whole team for braving the bad weather on the day.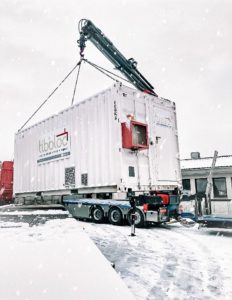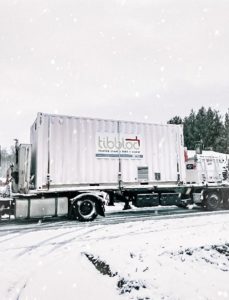 For a leading steel company, implementation of a 7MW+ hot power solution in a temporary boiler room within one week
We also supply and install 1.2MW of heaters, 12 air handling units of 20,000m3/h with 280m of ventilation ducts in diameter 500 and 1.8Km of hoses (DN80 and DN50).
This turnkey service involved 6 Tibbloc technicians, 12 flatbed trucks and 1 crane.
The installation is now operational and we would like to thank all our teams, who, once again, have made it possible to meet the deadlines and fully satisfy our Client.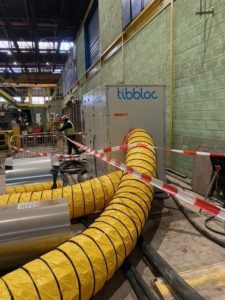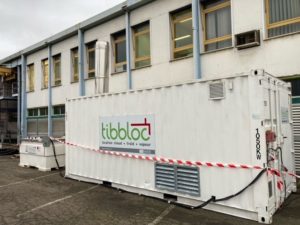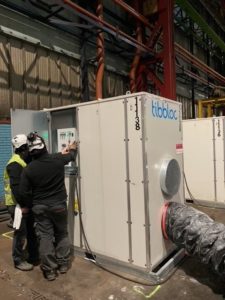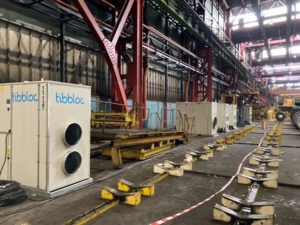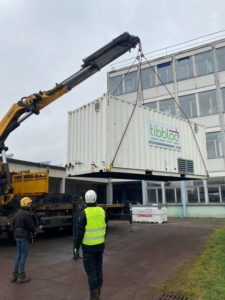 Installation of a boiler room and an air handling unit in an 8000m2 production hall.
It is a turnkey offer, with remote monitoring of the installations and regular maintenance.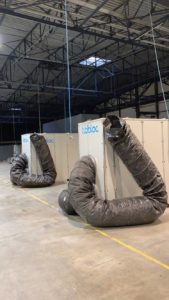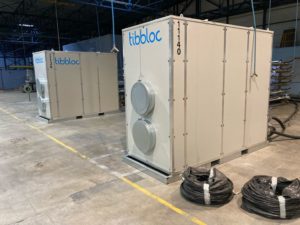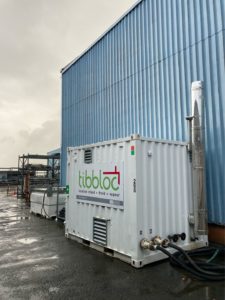 Green boiler room 100% renewable rapeseed – Let's make the most for French agriculture!
Design, delivery and installation of a complete, self-contained, turnkey Tibbloc green boiler room for a heating network. Rapeseed boiler room, a 100% renewable fuel, locally sourced in France. Ducting and connection by our team.
The company cultivates its difference in the discreet and aesthetic design of the power plant to serve our partner.
Tibbloc also assists you in treating the water in your heating system by renting a whole range of water softeners.