DECARBONISING HEATING AND DOMESTIC HOT WATER
Being aware that climate change is everybody's business. Tibbloc wants to be an active player in the reduction of the carbon footprint together with its customers. After several tests and adjustments, Tibbloc offers two ways of implementation for more environmental services.
What we decide:
100% French production
Decarbonising mobile installations: boiler rooms, boilers, etc.
Be green, even for the temporary: networks, additional power, breakdowns, works…
RAPESEED FUEL
Green fuel made from 100% rapeseed oil, a 100% renewable and traceable energy, produced locally in France.
ECO FUEL
Economical, stable and green fuel made from a minimum of 5% rapeseed oil and 95% de-sulphurised heating oil.
ENVIRONMENTAL BENEFITS
Local and traced biomass, French agricultural sector
-60% less greenhouse gas emissions (rapeseed)
-80% of fine particles (rapeseed)
High reduction in nitrogen oxide emissions
Odourless desulphurised heating
Optimal burning
Environmentally friendly
TAX AID
Issue of a renewable energy certificate (rape)
Customer benefits
Excellent efficiency: reduced consumption
Colourless and environmentally friendly
Oilseed rape eligible for renewable energy
No storage regulations
RELIABLE AND SECURE SUPPLY
Level monitoring on our mobile facilities
24/7 delivery service
Mobile tanks for maximum autonomy on all types of sites
No trace of hydrocarbons on the ground
No storage volume guidelines or positioning limits
Remote monitoring, latest generation non-overhead tank
STRONG AND STABLE FUEL
Up to -10°C / -20°C in "extreme cold" (Rapeseed)
Up to -20°C with 80% biodegradable additive (Eco)
Reduces consumption and protects the boiler
Stabilises the product in the tank
SAVINGS
Eco fuel in the Top 3 of the most economical energies
After oil and gas
WOOD / PELLET BOILER ROOM
Boiler room fuelled by shredded wood or pellets. Low and stable fuel costs, high availability and favourable ecological balance
ENVIRONMENTAL BENEFITS
Zero CO2 emissions
Shredded wood or pellets
COMPLETE BOILER ROOM
Expansion tank, primary and recirculation pump, distribution panels, safety devices, automatic air vent, regulated flow with 3-way valve.
EXCELLENT PERFORMANCE/COST RATIO
No Capex with rental solutions
Choice of duration
Very economical energy, controlled costs.
Installation of a 210 kW chiller following the renovation work.
A big thank you to our technicians, and to all our services for their reactivity.
Thank you to our client for their confidence.
In 2022, to better support your energy transition projects – energy savings, decarbonisation, recovered energies – your service availability commitments and your security of critical utilities in healthcare, service sector and industrial processes.
Tibbloc has decided to intensify and diversify its offer in multi-energy with investments in equipment and the integration of about ten experienced and specialised employees.
It therefore seemed natural that our website should evolve to present our new offers and reflect our vision.
New Tibbloc website
Practical online access to our proven and new expertise in multi-energy with more than 260 data sheets available online,
Value and peace of mind for all your projects with our choice of alternatives, services, add-ons and accessories.
Our Sales Team
Close to you and attentive to your needs, we are available to meet with you, study your project and offer you an adapted, safe, efficient and turnkey solution. We have designed our new website with their collaboration and this through your numerous feedbacks which they knew how to value and report.
The whole Tibbloc team
Shares an exceptional wealth in the diversity of its talents and in its daily commitment to your service. With our new website, discover the faces and testimonies of our teams, our human values and our recruitment offers
Installation of a 6T/h steam boiler to repair a brewery.
To meet your specific requirements, Tibbloc offers complete boiler rooms in containers, with 24/72 SPHP operation.
HIGHLIGHTS
Cost-effective
No Capex
Costs controlled
Immediate response to emergencies (breakdown, breakage, etc.)
Choice of duration
Recent, high-performance equipment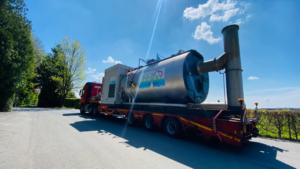 Implementation of a 210 kW chiller following renovation works in a building. The rental period lasted 26 weeks.
Chilled water production unit
The GFT210 chiller is the most compact chiller in the Tibbloc range.
It can be used in various installations, for process cooling or air conditioning. The GFT210 delivers a nominal power of 208 KW for a chilled water outlet temperature range of +7°/+12°C. For other applications, please consult the Tibbloc integrated project planning unit.
Environmentally friendly – The GFT210 uses R410A refrigerant for reliability and optimum efficiency.
Low noise level – The GFT210 is a low-noise chiller, 58 d(B)A at 10 metres.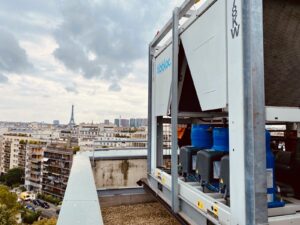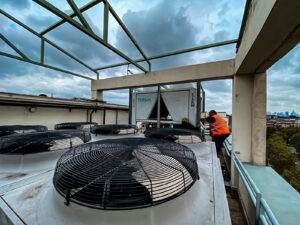 Emergency installation of a 1 MW gas boiler room in a public establishment following a breakdown in their boiler room. Tibbloc's intervention enabled the entire building to be heated. Benefit quickly from additional power or a temporary mobile boiler room during your scheduled or emergency work thanks to our gas boiler rooms.
Complete boiler room :
Expansion tank, primary pump + recirculation pump, distribution panel, safety, regulation, isolation valve, stainless steel single skin chimney, high flow trap, constant flow or regulated flow with three way valve.
According to the model :
Delivered, installed and commissioned on a turnkey basis by our teams
Easy to place – free choice of location
Easy energy supply
Optimised energy cost for long term rental
Gas fuel management by Tibbloc on demand
Heating / Dehumidification during the resin application phase!
Customised installation for the occasion.
More than 750m of flexible ducting with a diameter of 500mm was installed and almost 120,000m3/h of air was treated.
HEATING
Heating solutions for hire for a wide range of applications, from office heating to industrial heating (furnaces, electric and hydraulic unit heaters, air handling units).
DEHUMIDIFICATION
4-sided return air grids
Particle filtration ISO ePM1 55% (F5)
EC freewheel fan with high performance switching IP65
HEPA filtration H14 292 mm
Pressure switches and needle pressure gauges (filtrations)
4-sided double deflection diffuser
Adjustable and lockable vertical airflow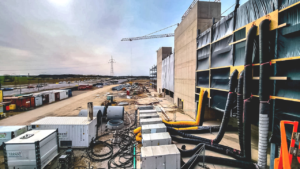 WEDDING
Unique and unforgettable events require efficient and reliable temperature control equipment.
To ensure a pleasant climate and cool storage space, our teams installed two 115 KW heat pumps, two 250 KW air handling units and three 15 KW mobile air conditioners.
Dutch translation :
Uitzonderlijke en onvergetelijke evenementen vereisen efficiënte en betrouwbare apparatuur voor temperatuurregeling.
Om te profiteren van een aangenaam klimaat en koude opslagruimte, hebben onze teams twee 115 KW warmtepompen geïnstalleerd met twee 250 KW luchtbehandelingskasten en drie 15 KW split-airconditioners.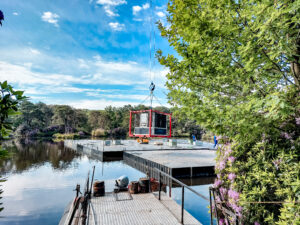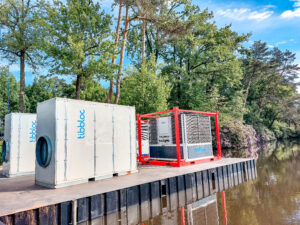 Bank holiday
This weekend, Tibbloc assisted a hospital in the South-East of France with a need for chilled water.
Tibbloc was able to mobilise its teams 24/7 to make this service possible for a hospital that was at risk of evacuating some of its patients.
We mobilise with the same commitment and quality of service for our partners, regular customers and new customers.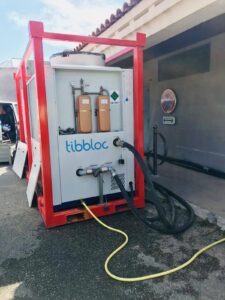 Overview
Founded in 2007 by experts in climatic engineering rooted in Bretagne, TIBBLOC (100 employees in 6 agencies) is a French rental company of temporary power solutions, independent and on a human scale. This year, true to its passion and local commitment, TIBBLOC is proud to become a partner of the EAG. This partnership takes shape with the arrival of TIBBLOC on the shirt of the professional team.
To know us better… TIBBLOC facilitates the daily life of urban networks, industrial companies, local authorities and the tertiary sector by making more than 300 MW of mobile equipment available 24/7 for the production of heating, cooling, air conditioning, air treatment, steam and compressed air.
In France and in Europe, reactive experts are mobilised to study, deliver, install and supervise your temporary power solution. With TIBBLOC, you always have a mobile power solution nearby, in case of emergency, breakdown, breakage, scheduled work, need for additional power or testing of new processes.
These solutions are quick to implement and easy to install, and include fuel delivery on demand. They are delivered, installed and put into operation by the TIBBLOC teams.
Heating rental
The temporary boiler rooms (60 KW to 5,000 KW) TIBBLOC are for the most part equipped with mixed burners to produce heating and DHW via premium domestic fuel oil, 100% ENR colza, eco-fuel, wood, gas. In addition, TIBBLOC rents out other solutions: electric boilers, domestic water production, hot air generators, heat pumps, unit heaters.
Cooling rental
TIBBLOC chillers (10 kW to 1000 kW) are the benchmark in the rental market for process or comfort cooling. In addition, TIBBLOC rents a large fleet of air conditioning, air treatment and air purification systems: air treatment units, roof top air conditioners, monoblocs, splits, reversibles, air coolers, dry air coolers, air purifiers, cold rooms and refrigerated containers.
Steam rental
In 2018, TIBBLOC diversified into the rental of steam (250 kg/h to 17T/h), superheated water and thermal fluid boilers, 100% equipped in containers, in SPHP 24/72 hours operation.
Find all the heating / cooling / steam equipment for hire at TIBBLOC on www.tibbloc.fr or contact the team on Tel. 0810 310 307.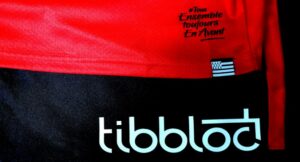 Loyalty to our French customers: our commitment is to support you in all situations.
In the early spring of 2022, in anticipation of the upcoming tensions in the supply of heating and steam generation, we were heavily solicited by multiple foreign firms. Their aim was to secure energy supplies by setting up temporary back-up facilities.
We immediately reacted by inviting all our historical partners, operators and industrialists in all French territories, to anticipate their needs before the summer 2022.
At the same time, we invested €5 million in equipment to support demand, contacted our manufacturers in France and Europe, and recruited around 20 additional staff.
Naturally, we are proud to help French industrialists, of all sizes and in all regions, to spend the winter in safety, as well as our operating partners who are mobilised to serve hospitals, nursing homes, the tertiary sector, housing, local authorities and industry.
This is the meaning of our commitment, our responsibility and our loyalty, which we reiterated at our Corporate Seminar held in mid-September 2022.
Strong values shared by our teams which honour us and allow Tibbloc, independent French rental company, to celebrate this year 15 years of energy at your service.
And because we don't leave anyone by the wayside, our sales team works every day to offer solutions to the French companies that contact us.
For any questions or comments, please contact us at info@tibbloc.fr or Tel. 0810 310 307.
Visit LinkedIn to see the video produced: https://www.linkedin.com/feed/update/urn:li:activity:6998209167098310658
New generation air compressor rental
New generation of our outdoor air compressors for rent.
Since the launch of our new compressed air and air dryer range, our team of welders have been manufacturing the frames with the aim of making them functional outdoors.
Thanks to our team in Nantes, Yann Perron, Christopher Vilquin and Mickaël Richardeau for this exclusive TIBBLOC product.